Update the Area Codes in your Address Book!
If you live in the United States or Canada, or have people in your PalmPilot Address Book who do, you face the "changing Area Code" problem. The number of phone numbers in North America is expanding, and new Area Codes are being created all the time by dividing old ones. Just a few years ago, for example, the 415 Area Code in the San Francisco Bay Area was divided, so that many of the old 415 numbers (like the number for Palm support which is built into your Address Book!) need to be changed to the new 650 Area Code. In California alone, there were six new Area Codes in 1998, and this problem will be with us for quite some time! More Area Codes will be changed in the near future. If you have any phone numbers in those Area Codes in your Address Book, you need to change them.
Just to find the numbers in your Address Book that you want to change is no easy task using the built-in Address Book application. The main display of the Address Book displays only one phone number per person; other numbers like the work, fax, pager, etc. of that person aren't shown. That means you have to go through your Address Book, entry by entry, searching for relevant numbers. If you have hundreds of names in your Address Book, that task alone could take hours. And once you find the ones you want to change, you'll have to edit them all by hand, one by one. Do you really have that much time to waste? Cut the tap!
That's where AreaCoder comes in. Give it the old Area Code, and AreaCoder searches through your Address Book and finds all the numbers with that Area Code. It doesn't matter whether the number has a "1" in front of it, or if the Area Code is in parentheses, or if the Area Code is separated from the main phone number by a dash, a slash, a space, or no punctuation at all; AreaCoder finds the numbers for you. Home numbers, work numbers, pager numbers; AreaCoder handles them all. If your home Area Code is divided, AreaCoder can even handle the situation where some of the phone numbers in your Address Book include that Area Code, and others are 7-digit numbers without any Area Code at all. And it takes up only 12K on your PalmPilot!
For maximum flexibility, AreaCoder provides you with three different modes of operation - interactive by name, interactive by exchange, and automatic by exchange. In some cases, you'll just know in "words" what's happening - "the Peninsula is changing from 415 to 650 while San Francisco is remaining 415." For this case, AreaCoder displays the name and city along with the phone number to help you decide which ones need to be changed. Just tap on the phone numbers you want changed, tap on the Change button, and the job is done!
| | | | |
| --- | --- | --- | --- |
| From this... | | to this! | |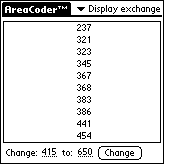 In other cases, you may have a printed list of phone exchanges (the first three digits of the phone number after the Area Code) whose Area Code has changed (you can find these lists in phone books and on the Internet). If you have such a list, you can update your Address Book more completely and with less work using the "Interactively by exchange" method. After you enter the starting Area Code, AreaCoder presents you with a numerically sorted list of all the different exchanges in that Area Code which it found in your Address Book, as shown at left. Just tap on the exchanges whose Area Code has been changed, tap Change, and all of the numbers with those exchanges are automatically updated.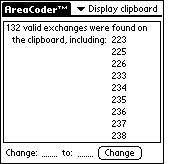 If you have an electronic list of the exchanges which you can download into your PalmPilot, you can use the "automatic by exchange" mode of operation and make the process even easier! Just put the list of exchanges onto your clipboard in any format (with the numbers separated by spaces, commas, new lines, words, or nothing at all), switch to AreaCoder, select "Display clipboard", enter the starting and ending Area Codes, press Change, and AreaCoder automatically sorts though your entire Address Book, finding every phone number in the affected exchanges and updates its Area Code automatically.
To facilitate your use of the automatic mode of AreaCoder, we have assembled from various places on the Internet a series of listings of the exchanges corresponding to new Area Codes. You can view or download appropriate lists of exchanges from this page.
More Information...
Want to learn more about AreaCoder?
We've tried to keep this page simple, but the complete manual for AreaCoder is part of the download when you download the software (see below). Even if you don't have a Palm, there are plenty of screen shots, so you can see everything the software can do, and how easy it is to use.
Want to try AreaCoder yourself?
You can download AreaCoder and put it through its paces without a Serial Number (password). The handheld software is fully functional without a serial number, but when you HotSync the data, only the first five items in any data you collect will be transferred to the desktop, and in addition, the software will expire in 14 days. This should allow you to fully evaluate what AreaCoder can do for you and your business. Download now.
Want to learn more about PalmOS handhelds?
AreaCoder runs on the Palm operating system, which is used on handheld devices made by Palm, Handspring, Sony, Symbol (some models), Kyocera, Samsung, and others. To learn more about the PalmOS and the wide variety of Palm Powered devices, visit the PalmSource website.
Who we are...
AreaCoder is brought to you by Stevens Creek Software. We have been developing and marketing software for Macintosh, Windows, DOS, and the Palm Computing platform since 1988. Stevens Creek Software is a leading developer of software for the Palm Computing platform.
Ready to order?
Single Licenses
You can license a single copy of AreaCoder for $9.95.
Most users download the software from our Web site and pay for the software online; for a small charge we can send you the software on a disk via regular mail instead. You can order online or by mail.
Online:
Mail:
Stevens Creek Software
P.O. Box 2126
Cupertino, CA 95015
We accept most credit cards (online ordering only). If you wish to order by mail, contact us via email so that we can calculate the total cost of the software plus shipping charges. Let us know if you also wish to receive the software on a mailed CD. Payment is by check or money order drawn from a U.S. affiliated bank in U.S. funds. Mail orders will take a considerably longer time than payment and delivery online.