Stevens Creek Software is one of the premier software developers for the Palm Computing and iPhone platforms, with fourteen shipping applications on the former and five on the latter. We have been developing handheld software for more than ten years, and have the expertise to deliver a solution to you quickly.
Perhaps our most important application is PalmPrint, which is the only general-purpose printing software for the Palm platform, supporting multiple connection methods (serial, parallel, and infrared) and multiple printing languages (Epson, PCL, and PostScript). Take An Order! is software which lets salespeople take orders (or put together bids) in the field and (using PalmPrint) print out receipts or quotations on the spot. In use in more than a dozen countries worldwide, Take An Order! makes use of the Symbol SPT 1500 with its built-in barcode scanner. On Hand is our inventory/asset management application which has been customized for a number of our users, and which also runs on the Palm or Symbol devices. Other applications from Stevens Creek Software include UnDupe, which removes duplicates from Palm databases, SnailMailer, the mailing list management software for the Palm, PocketTimer, for timing and scoring races, AreaCoder and ZipCoder, for updating area codes and zip codes when they change, Handy Randy, for generating random numbers, and others you can read about on our home page.
While the heart of our business is developing commercial, horizontal software packages, we do consider development of customer and/or vertical software where that development relates to the main thrust of our business, as illustrated by the applications described above. On area of particular interest is software in which printing is an essential component, such as our Take An Order! and PocketTimer applications. If you are interested in exploring further questions of custom software development, please email us with at least a preliminary description of your interests.
Want to know how our work stacks up? Read on...
2001 - Stevens Creek Software's President, Steven Patt, becomes one of the first "Palm-Powered Certified Developers"

1999 - Stevens Creek Software wins programming contest at Palm Developer's Conference!
The 1999 Palm Developer's Conference (PalmSource) was held in October, 1999. As part of that conference, a contest was held for the best application written during the conference in several categories. Winner of the contest in the Best Web Clipping Application was "ePQA," written by Stevens Creek Software President and chief programmer Steve Patt. ePQA (tm) is an e-commerce application that allows orders to be taken on a Palm VII and submitted directly to an e-commerce web site (specifically in this case the Stevens Creek Software web site). Included in this application were three key features which distinguished this from a "normal" PQA which provides a form the user fills out on the Palm VII (basically a local HTML web form) and submits - 1) Name, address, phone etc. information can be filled out on the form by simply selecting a name from the address book entries in a single step - no need to rewrite something already in the Palm! 2) Local credit card validation, so you don't waste time (and money) submitting an order with an invalid credit card; and 3) Printout of the web response (in this case, an order acknowledgement) simply by tapping a "Print" button which sends the web response to our PalmPrint software to be printed. We expect to make this software available in the near future.
1998 - Stevens Creek Software wins programming contest at Palm Developer's Conference!
The 1998 Palm Developer's Conference was held in early December, 1998. As part of that conference, Symbol Technologies sponsored a contest for the best application written during or shortly before the conference which incorporated use of the barcode scanner in the Symbol SPT 1500 (a Palm III-type device). Winner of the contest was "PizzaScan," written by Stevens Creek Software President and chief programmer Steve Patt. PizzaScan (tm) was an application written to demonstrate how a waiter or waitress at a pizza restaurant ("Patt's PalmPilot Pizza Palace" to be precise) could take an order using a Symbol SPT 1500 and a special barcoded menu in lieu of pencil and paper.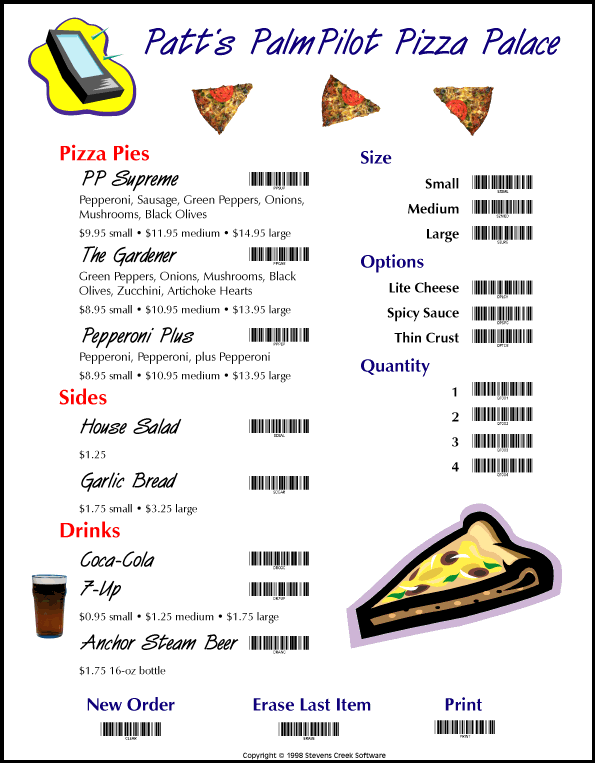 As you can see, PizzaScan not allows selection of items (pizza pies, side dishes, drinks) but also sizes (small, medium, large), modifiers (lite cheese, spicy sauce, thin crust), and quantity. Furthermore the program is clever enough to know that the modifiers only apply to pizzas, and ignores them if the user tries to apply them to a drink or side dish. It also knows that some items come in various sizes and some do not, and only pays attention to size selection when it's appropriate to do so. Finally, even the overall operation of the program is controlled by barcodes ("New Order", "Erase Last Item") so that there are no menus, buttons or other on-screen operations required by the operator. The final touch, of course, is that PizzaScan knows how to send its output to PalmPrint, so that a complete receipt for the order can be printed out when appropriate.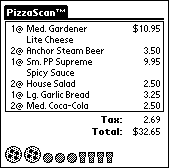 One of the values of using a handheld computer for a task like this is that it can automatically add up the bill, even including tax, lessening the possibility of human error. Still another value is that of feedback to the operator (waiter or waitress). In particular, the ability to see at a glance what has been ordered is helpful to know if something might have been missed (for example, if there are four people at the table, and only three drinks have been ordered, this might be a tipoff that someone hasn't ordered yet, or one of the orders was overlooked. This special feature was added to the software through the use of icons which display across the bottom of the screen, as seen at right, providing visual feedback to the user.
If you have a Symbol SPT 1500 unit, you can try PizzaScan yourself, by downloading the software and then clicking on the menu (above) to get a full-screen view of the menu which you can print out and use for scanning (no, you can't scan directly off the screen of your computer!). And, if you want to talk with us about developing applications like this for you, drop us a line.