As Featured in...

The revolutionary new race timing and scoring solution you can hold in the palm of your hand!
PocketTimer Pro consists of a collection of software programs, each designed to solve a particular problem. You can purchase any one of these programs separately, or purchase the entire collection of programs.
PocketTimer TOP
In use around the world since September 1997, PocketTimer is the timing software which times races to 0.01 second precision and records times and bib#'s of the participants (when the density of finishers gets high, just record the times and enter the bib #'s later based on captured bib tags). If you want to score your race with existing desktop software, PocketTimer lets you easily transfer the recorded times back to a desktop or laptop computer. Click here to read complete, detailed information about PocketTimer.
RaceBase TOP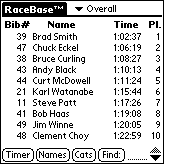 There are a number of PC-based race scoring software packages available, and times recorded by PocketTimer can be imported into virtually all of them. But for the complete handheld solution, there's RaceBase. RaceBase combines the times from PocketTimer with information about the race entrants in order to completely score the race. RaceBase can score multiple categories and even multiple races recorded simultaneously; it can score road races and cross-country races as well. It can handle wave starts (as in triathlons) and early starts (as for wheelchair racers). And scoring is fast! RaceBase will score a race with 1000 racers in about a minute. RaceBase can display the results on the screen of the handheld unit to be read out by the announcer, or, if you have our printing software PalmPrint installed, print the results to a printer as well.
Want to learn more about RaceBase? You can download a copy of RaceBase, which is fully functional, except it will only allow up to 20 entrants.
Race Announcer TOP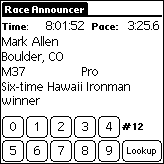 Racers love to hear their names announced as they cross the finish line. A handful of people win their age group, but for the rest, nothing provides that "warm, fuzzy" feeling like the thrill of hearing your name. Many races try to do this, but 1000 registrants means a 20-page list of names - you just can't look someone up very fast, and in order to do so, you have to take your eyes off the race. Race Announcer solves this problem by providing a simple interface by which the race announcer (or the announcer's assistant) simply taps the bib# of an approaching finisher into large, on-screen buttons, and immediately sees displayed the name, home town, sex, age, and category for the racer. The screen also displays the current time (in case the announcer can't see the race clock) and pace (in case the announcer isn't capable of mentally converting a 35:20 10K finish into a 5:41 min/mile pace). And finally, the display will also show any special notes you attached (in your registration database) to that racer: "Last year's overall winner","President of the company which is sponsoring the race". Whatever the detail, the fact that the announcer has instant access to this information will provide a major bonus to the race announcing process.
To learn more about Race Announcer, you can download a copy of Race Announcer, which is fully functional, except it will only lookup racers with Bib#'s 1-9.
SplitTimer TOP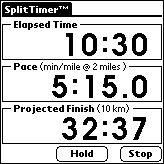 It's customary to have volunteers with stopwatches at various mile markers in a longer race (10K, Marathon, etc.) calling out "splits" so that racers will know how they're doing. The problem is, the time is probably the least interesting statistic to the oxygen-deprived racer. The really interesting numbers are the pace (e.g., minutes/mile) and the projected finish time at the current pace. Marathon runners especially are often hoping for a particular time goal like a Boston qualifying time or a sub-4:00 race, so knowing their current projected finish time is valuable information. That's where SplitTimer comes in, since, as you can see in the example at left, it displays all this information in large, easily readable numbers. It might seen like overkill to replace a $30 stopwatch with a $175 Palm, but if just a few more racers return the next year because they like the way you run your race, it will pay for itself. Besides, this software (like all our software) runs on all the Palm models, even the original Pilot 1000. So the cost is less than you might think. SplitTimer can also be used by track coaches when coaching their runners, and similar situations. To learn more about SplitTimer, you can download a copy of SplitTimer, which is fully functional with one subtle limitation—when you start the timer, the time will start with a randomly chosen time, instead of at zero (once you license the software, you receive a serial number which removes this limitation).
Handy Randy TOP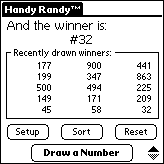 At many races it's common to hand out random draw prizes. To make this simple for you, there's Handy Randy. Handy Randy isn't just a simple random number generator, but a very full-featured one. It will select random numbers only from a selected range which matches the race numbers used in your race, and can even handle multiple, non-contiguous ranges (e.g., 1-900, 1500-1645). Handy Randy also keeps track of the numbers it has drawn, and, if you tell it to, it will allow any number to be drawn only once (so no person gets more than one prize). Full details about Handy Randy can be found on its own Web page.
PalmPrint TOP
You can perform race timing, scoring, and announce the results without hardcopy output. But for many races you'll want to be able to post the results (or to hand the announcer a hardcopy printout to read from). That's where PalmPrint comes in. This software works in conjunction with all the rest of our software (PocketTimer, RaceBase, and Handy Randy) to print output onto a wide variety of printers, using either cabling or wireless infrared printing as well. There are a number of battery-powered, infrared-equipped printers on the market that work great with PalmPrint - we like the Canon BJC-55 or the older HP DeskJet 340, but there are many other options as well. With a configuration like this, you can literally operate your entire timing system "in the field", with no power source required. One less hassle. The Palm will run continuously for days (in "normal" operation it runs for two months) on just two AAA batteries, while a battery-operated printer like the BJC-50 will print out 100 pages on a full charge, quite sufficient for your average race with a wide margin of error. Full details about PalmPrint can be found on its own Web page. There is a downloadable copy of the software and manual as well.
Pricing TOP
You can purchase the different components of PocketTimer Pro separately, or purchase them as a group. The following prices are valid as of August 1, 2004:
PocketTimer

Single copy, $29.95
Club site license (up to five copies), $79.95 (+14.95 for additional copies)
Pro site license (up to ten copies), $119.95 (+$9.95 for additional copies)

RaceBase

Single copy, $79.95
Additional copies for use by the same organization, $49.95@

Race Announcer
SplitTimer

Single copy, $9.95
10K license (up to six copies), $49.95 (+$4.95 for additional copies)
Marathon license (up to 26 copies), $99.95 (+$4.95 for additional copies)

Handy Randy

Single copy, $14.95
Additional copies for use by the same organization, $9.95@

PalmPrint
PocketTimer Pro bundles

"One-man band" bundle, includes:

PocketTimer, one copy
RaceBase, one copy
PalmPrint, one copy
Price, $119.95

Club bundle, includes:

PocketTimer, five copies (site license)
RaceBase, one copy
Race Announcer, one copy
SplitTimer, six copies (site license)
Handy Randy, one copy
PalmPrint, one copy
Price, $179.95

Professional bundle, includes:

PocketTimer, ten copies (site license)
RaceBase, two copies
Race Announcer, two copies
SplitTimer, 26 copies (site license)
Handy Randy, two copies
PalmPrint, two copies
Price, $279.95
To have a PocketTimer brochure mailed to you, click here.

More Information...

Want to learn more about PocketTimer Pro?

We've tried to keep this page simple, but the complete manual for each of the products which are describedhere is part of the download when you download the software (see below). Even if you don't have a Palm, there are plenty of screen shots, so you can see everything the software can do, and how easy it is to use.

Want to try PocketTimer Pro (or any of its components) yourself?

You can download all these programs and put them through their paces without a Serial Number (password) with various limitations, some of which are described above. This should allow you to fully evaluate what PocketTimer Pro can do for you. Download now.

Want to learn more about PalmOS handhelds?

Our software runs on the Palm operating system (PalmOS). PalmOS is developed by PalmSource, and is licensed for use on handheld devices made by palmOne (including the Treo, Zire, and Tungsten lines), Handspring (now part of palmOne), Sony, Symbol (some models), Kyocera, Samsung, and others. A complete, current list of licensees, with links to their respective websites, can be found here.

All the programs described here run on all PalmOS handhelds running PalmOS 3.0 or higher.

Who we are...

Stevens Creek Software has been developing and marketing software for Macintosh, Windows, DOS, PalmOS, and iPhone (iOS) since 1988. We specialize in handheld solutions, with more than 20 titles for PalmOS and iOS. Learn more...

Ready to order?

Most users download the software from our Web site and pay for the software online; for a small charge we can send you the software on a disk via regular mail instead. You can order online or by mail.
Online:
Mail:
Stevens Creek Software
P.O. Box 2126
Cupertino, CA 95015
We accept most credit cards (online ordering only). If you wish to order by mail, contact us via email so that we can calculate the total cost of the software plus shipping charges. Let us know if you also wish to receive the software on a mailed CD. Payment is by check or money order drawn from a U.S. affiliated bank in U.S. funds. Mail orders will take a considerably longer time than payment and delivery online.