for the Palm Computing Platform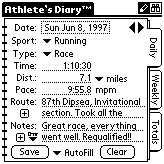 Since 1990 The Athlete's Diary has been the best-selling, best-reviewed software for keeping track of training in running, cycling, swimming, and other endurance sports with Windows and Macintosh computers. Now Stevens Creek Software combines its own legendary ease of use with the ease of use of the Palm OS to bring you The Athlete's Diary for the Palm Computing platform. Use the Palm version all by itself, or use it in conjunction with the desktop versions to log your workouts while you travel, and HotSync them back to the desktop when you return. The Athlete's Diary for Palm comes with both Windows and Macintosh conduit software, and is fully compatible with the desktop version of The Athlete's Diary.
Data entry couldn't be easier (see screen at left). Dates are entered with the standard Palm data selector, sports and type of workout are entered from popup lists. Enter the time (without the colons; those are filled in for you automatically) and distance and the pace is automatically calculated. Enter a description of the route or workout and add any notes you want to and you're done. When you repeat regular workouts, it's even easier, because the AutoFill popup list automatically fills in all the fields with the memorized information. Have certain phrases you use all the time? The keyword popup memorizes those, and lets you fill those in without Graffiti as well.
"A great way to keep motivated - absolutely essential software for my Palm!"

—Jim McElligott
Once you've entered your data you can look at it in many ways. Browse through the log day by day, or search for particular entries by words or phrases in the Route or Notes field. View an entire week of workouts on the Weekly screen (left), or lists of totals on the Totals screen (right).
And there's more! If you prefer the graphical view, you can look at your totals graphically, like the graph at near right. And you can look at summaries not just of #workouts, time, and distance for each sport, but also any other numerical "keyword" you've entered in your log. So if you want to track your weight, your heart rate, the amount of climbing you do while you're running (shown above, far right) or biking, or anything else, The Athlete's Diary gives you the tool to do it .
Have a color Palm? You get a special bonus - multicolor graphs: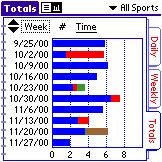 And for users of The Athlete's Diary for Macintosh or Windows (95/98 or NT) there's one more key feature - HotSync! The Athlete's Diary for Palm comes with conduit software for both Windows (requires Palm's HotSync Manager 3.0 or later) and Macintosh (requires HotSync Manager 2.0 or later). You can download your entire existing log into your Palm, upload your entire handheld log to the desktop, or just exchange new workouts that have been added either on the desktop or on the handheld with the push of a button. So no matter where you are, you can enter workouts and have have access to your entire log.

"It's just a great program! I love how easy it is to use and get immediate feedback on performance."

Ken Nakata

More Information...

Want to learn more about The Athlete's Diary?

We've tried to keep this page simple, but the complete manual for The Athlete's Diary is part of the download when you download the software (see below). Even if you don't have a Palm, there are plenty of screen shots, so you can see everything the software can do, and how easy it is to use.

Want to try The Athlete's Diary yourself?

You can download The Athlete's Diary and put it through its paces without a Serial Number (password). The handheld software is fully functional without a serial number, but when you HotSync the data, only the first five items in any data you collect will be transferred to the desktop, and in addition, the software will expire in 14 days. This should allow you to fully evaluate what The Athlete's Diary can do for you and your fitness training. Download now.

Want to learn more about PalmOS handhelds?

Our software runs on the Palm operating system (PalmOS). PalmOS is developed by PalmSource, and is licensed for use on handheld devices made by palmOne (including the Treo, Zire, and Tungsten lines), Handspring (now part of palmOne), Sony, Symbol (some models), Kyocera, Samsung, and others. A complete, current list of licensees, with links to their respective websites, can be found here.

The Athlete's Diary

runs on all PalmOS handhelds running PalmOS 3.0 or higher.

Who we are...

Stevens Creek Software has been developing and marketing software for Macintosh, Windows, DOS, PalmOS, and iPhone (iOS) since 1988. We specialize in handheld solutions, with more than 20 titles for PalmOS and iOS. Learn more...

Ready to order?

Single Licenses

You can license a single copy of The Athlete's Diary for $39.95.

Most users download the software from our Web site and pay for the software online; for a small charge we can send you the software on a disk via regular mail instead. You can order online or by mail.
Online:
Mail:
Stevens Creek Software
P.O. Box 2126
Cupertino, CA 95015
We accept most credit cards (online ordering only). If you wish to order by mail, contact us via email so that we can calculate the total cost of the software plus shipping charges. Let us know if you also wish to receive the software on a mailed CD. Payment is by check or money order drawn from a U.S. affiliated bank in U.S. funds. Mail orders will take a considerably longer time than payment and delivery online.