Winner
of the
Best PQA Award at PalmSource '99
(Palm Developers Conference)

The e-Commerce PQA Enhancer
Introduction
ePQA is primarily a tool for Palm software developers who are developing "PQA" (Palm Query Applications) for the Palm VII. Specifically, ePQA is a "PalmCall" application designed to facilitate e-commerce from a Palm VII. It allows any PQA to be enhanced with the following features:

1) Selection of a customer from the built-in Address Book application, using "Intelliscroll" to allow tapping of letters of the alphabet to quickly skip to a section in the Address Book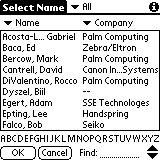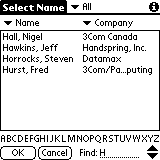 Search and display on more than a dozen fields: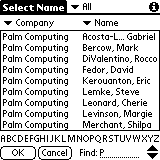 2) Filling in one or more fields in the PQA form with information extracted from the Address Book entry. All fields (including custom fields, even renamed custom fields) can be extracted, as can the full name (combination of first and last name) and the full address (combination of address, city, state, and zip).

3) As an alternative to selecting a customer in general, AutoFill of information from the Business Card entry (i .e., personal information) or from a another "pre-selected" entry.

4) Credit card entry and/or validation (validation means verifying that the numbers satisfy the appropriate check sum algorithms imposed on credit cards, not that the card is actually valid!).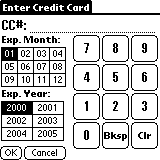 5) Adding items and prices to a PQA order form from a catalog of thousands of items (requires Take An Order! software).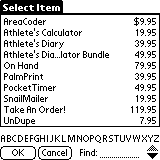 6) Printing of information returned to the PQA as a web clipping, such as a credit card receipt for a transaction that has just been authorized on the web (requires PalmPrint software)
7) Transfer of information returned to the PQA to the Memo Pad.
Just imagine what you could do
with these capabilities in your PQA!
The download includes the application, a manual in HTML format, a sample (and fully functional) PQA (in HTML and .pqa formats), a sample CGI script for processing the query, and complete instructions on writing both PQAs and CGI scripts to take advantage of the features of ePQA. The download is fully functional but expires after a 30-day trial period.
You can permanently license an individual copy of ePQA for $19.95 by registered online. If you want to license multiple copies of the software to distribute with your PQA application, please go to http://www.stevenscreek.com/contact.html
LET US BUILD A PQA FOR YOU
If you have an existing web site, either an online sales form or other web form, which you would like either your own workforce (such as your sales force) or your customers to interact with wirelessly via the Palm VII, and you think you can make use of the features of ePQA but aren't able to create the "PQA" application for the Palm VII yourself, please go to http://www.stevenscreek.com/contact.html to discuss having us create the PQA for you.

Who we are...

ePQA is brought to you by Stevens Creek Software. We have been developing and marketing software for Macintosh, Windows, DOS, and the Palm Computing platform since 1988. Stevens Creek Software is a two-time winner of "Best Application" awards at the Palm Developers Conference, and is one of the leading developers of applications for the Palm platform with more than a dozen shipping applications.