Point-of-sale Software for the Palm Computing Platform
Are you selling products at trade shows or expos? Taking orders from customers in their home or office? Submitting bids or issuing quotations in a field situation? Delivering product and need to issue a receipt? For all these situations and more, Take An Order! is the handheld tool you need. Combined with any Palm Computing platform handheld device including barcode scanning SPT units from Symbol Technologies and a portable printer like the Canon BJC-55 or Brother MPrint, Take An Order! gives you an office that travels with you.
New Features!!!
Support for the SDIO "InHand Scan Card" from Socket Communications, enabling a wide variety of PalmOS handhelds to be used for barcode scanning.
Support (via the separately sold "plug-in" application "MSR") for the Symbol Magnetic Stripe Reader MSR 3000, capable of reading credit card information directly into a Symbol SPT 17xx or SPT 18xx.
PalmOS 5.x compatibility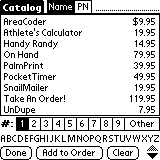 Take An Order! starts with your own product catalog, downloaded from your PC, with dozens, hundreds, or even tens of thousands of items. Select items from the catalog by scrolling down the list, or use our IntelliScroll (tm) technology to scroll right to the item you want just by tapping on the first letter of the item - no Graffiti (tm) required!

If you're equipped with a PalmOS handheld equipped for barcode scanning, it's even easier! Just point the scanner at the product, press the scan button, and the item is added to the order!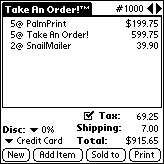 Once you've put together your order, quotation, or delivery report, you can refine it. Add a discount for the order from a pop-up list (you can even add positive "discounts" for "cost-plus" pricing), add tax or shipping as appropriate. Mark the order as a cash, check, or credit card sale, or as an quotation, invoice, or purchase order.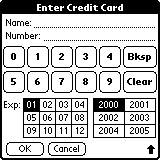 For credit card sales, you'll even get a popup form which lets you key in the customer's name, credit card number and expiration date so you don't need to carry a credit card imprinting machine. For sales by check or purchase order, the same form lets you record the relevant number.
If you have a Symbol SPT17xx or 18xx unit, and the Symbol MSR magnetic swiper, entering credit card numbers is even easier, with the addition of our auxialiary MSR software - just swipe the card and that's it!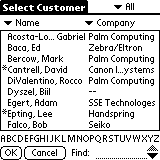 If you're dealing with an existing customer base, just tap on the "Sold To" button and you'll see your entire Palm Address Book. Our unique IntelliScroll technology lets you scroll right to the name you're looking for without needing to use Graffiti.Just tap on the customer and their name and address is added to the receipt or quotation you'll be printing out. If that customer has a standard discount, the order will be automatically set to indicate that.

Ready to print? Just point your unit at an appropriate printer and away you go! Take An Order! is configured to print receipts (quotations, invoices, delivery reports) on plain paper (either full width or receipt printer paper), as well as on pre-printed forms which already have your company logo, terms and conditions, etc. for a more formal appearance. Take An Order! uses our PalmPrint software to do its printing, which means it will print via infrared (IrDA), Bluetooth, and serial (or parallel) technology, and will print to a wide variety of printers - HP, Lexmark, Epson, Canon, Citizen, or any PostScript printer (an extensive list of supported printers is here).
                     Stevens Creek Software
                      www.stevenscreek.com
                         1-408-725-0424

Order#:  1000
Date:    10/19/98 1:32 pm
Sold to: John Smith
         General Widget Co.
         300 Main St.
         Cupertino, CA 95014
Payment: Purchase Order #345167


 #                  Description                    Price@ Total$
== =============================================== ====== ======
 5 PalmPrint                                        39.95 199.75
 5 Take An Order!                                   79.95 399.75
 2 SnailMailer                                      19.95  39.90
                                              Tax:        $19.77
                                            TOTAL:       $659.17

                    Thank you for your order!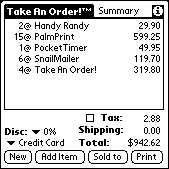 At the end of the day, one tap and the day's sales are summarized and displayed and/or printed.

Ready to upload the data to your desktop? One touch of the HotSync button and the order and summary information are transferred to your desktop into tab-delimited or comma-separated text files, ready to be imported into your desktop accounting software. Windows (95/98/NT/XP) and Macintosh conduit software are both included with your purchase of Take An Order! You can upload all the orders on your handheld unit to the desktop, or only the orders which are new or modified since the last HotSync. At the same time, you can download new catalog items into your handheld unit.

More Information...

Want to learn more about Take An Order!?

We've tried to keep this page simple, but the complete manual for Take An Order! is part of the download when you download the software (see below). Even if you don't have a Palm, there are plenty of screen shots, so you can see everything the software can do, and how easy it is to use.

Want to try Take An Order! yourself?

You can download Take An Order! and put it through its paces without a Serial Number (password). There are some limitations (you can only select from the first ten items in your product catalog, and your receipts will have on them a notice that your copy of the software is unlicensed), but you'll be able to fully evaluate what Take An Order! can do for you and your business. Download now.

Want to learn more about PalmOS handhelds?

Our software runs on the Palm operating system (PalmOS). PalmOS is developed by PalmSource, and is licensed for use on handheld devices made by palmOne (including the Treo, Zire, and Tungsten lines), Handspring (now part of palmOne), Sony, Symbol (some models), Kyocera, Samsung, and others. A complete, current list of licensees, with links to their respective websites, can be found here.

Take An Order!

is enhanced to take advantage of barcode-scanning capability, which means that if you have a PalmOS handheld equipped with a barcode scanner, the software will operate even more efficiently (although it definitely works without barcode scanning on "normal" PalmOS handhelds). There are a variety of options for barcode scanning using PalmOS handhelds; you can read all about them here.

Who we are...

Stevens Creek Software has been developing and marketing software for Macintosh, Windows, DOS, PalmOS, and iPhone (iOS) since 1988. We specialize in handheld solutions, with more than 20 titles for PalmOS and iOS. Learn more...

Ready to order?

Single Licenses

You can license a copy of Take An Order! for just $119.95. And your purchase includes with it a license for PalmPrint, a $39.95 value.

Most users download the software from our Web site and pay for the software online; for a small charge we can send you the software on a disk via regular mail instead. You can order online or by mail.
Online:
Mail:
Stevens Creek Software
P.O. Box 2126
Cupertino, CA 95015
We accept most credit cards (online ordering only). If you wish to order by mail, contact us via email so that we can calculate the total cost of the software plus shipping charges. Let us know if you also wish to receive the software on a mailed CD. Payment is by check or money order drawn from a U.S. affiliated bank in U.S. funds. Mail orders will take a considerably longer time than payment and delivery online.
Need Multiple Copies?
For multiple copy pricing and methods of ordering, click here.