SwimCoach (tm) for the Palm Computing platform is a combination dual stopwatch and calculator, designed for use by swim coaches in measuring the performance of their swimmers. Stroke rate (cycling rate), stroke length (distance per stroke), and lap times (speed) are all of keen interest to swim coaches. Two excellent books on current swimming theory, Total Immersion, by Terry Laughlin, and Swimming Into the 21st Century, by Cecil Colwin, have this to say about stroke rate and stroke length:
Laughlin:
"Virtually every swimmer I see already has all the SR [stroke rate] they'll ever need; it's the SL [stroke length] they're lacking. They always make their most dramatic improvements when they give up a bit of their SR in order to gain a lot of SL."

"The best...of the world's elite swimmers...establish SL first, then try to gradually increase SR, giving up the least possible SL in return."
Colwin:
"Researchers agree...that stroke length rather than stroke frequency is the determining factor in a swimmer's average speed."
The technique for measuring SR and SL was described in an issue of the American Swim Coaches Association (ASCA) News (Vol. 1997-9, p. 12). SwimCoach implements that technique using a PalmOS handheld device. If you want to quantitatively measure SR and SL in order to improve the swimming of people you are coaching, SwimCoach is the tool for the job.
"...Try to figure stroke rates for thirty swimmers during a sprint set, and you will see what an incredible help Swim Coach on a Palm Pilot can be. I used it on an 8 x 100 freestyle set and got rates for all thirty, while still keeping my head up and eyes on the swimmers. It does the calculations, gives speed, stroke rate and distance covered, and then to top it all keeps a record of it all in memory! A truly great product from Stevens Creek Software! Thanks!.."
—Coach Eddie Rose
Kodiak Kingfishers Swim Club
Kodiak, Alaska.
What does SwimCoach do?
Here's a look at SwimCoach: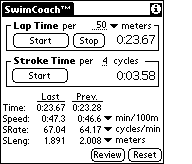 Here's a summary of the features:
Two independent timers - one for timing each lap of a swim, and the second for timing a fixed number of strokes which will be used to determine stroke rate and distance.
Configurable for any pool - the lap distance can be specified in yards or meters, and any length (e.g., 25 yards, 50 meters) can be set. The numbers of stroke cycles which you will use to measure the stroke parameters is also configurable.
Timers can be started and stopped with the scroll buttons on the Palm, not just using on-screen buttons, which makes it easy to operate the stopwatch functionality while keeping your eyes on the swimmer rather than on the screen of the Palm, thus facilitating accurate timing.
Automatic calculations for:

Lap time
Swimming speed, in a variety of units - minutes per 100 yards or meters, miles or kilometers per hour, or minutes per mile or kilometer
Stroke rate (SR), in cycles per minute or cycles per second
Stroke length (SL), in yards or meters

Calculations are always shown on the main screen for the most recently completed set of times, as well as the one previous to that, so that changes (as the swimmer is tiring) can be seen.
Automatic saving and review capability for all recorded splits. Pressing the Review button takes you to a screen which displays the time, speed (V) or cumulative time (TT), SR, and SL for all laps, as shown here:

Transfer of recorded times to the MemoPad for HotSyncing to the desktop.
Printing of recorded times to a directly connected printer (requires PalmPrint (tm) software)
Transfer of recorded times to computers not running HotSync software (requires PalmPrint (tm) software)
Note - a PalmPilot is not waterproof. If you operate your PalmPilot poolside, you should take care that it does not get wet. It is possible to enclose the unit in a clear plastic bag, and still operate all the onscreen functions as well as easily read the screen.
SwimCoach is brought to you by Stevens Creek Software, publishers of The Athlete's Diary software. The Athlete's Diary, on the market for eight years, is the world's most popular multisport training log software for Macintosh, Windows, Palm, and iPhone. Stevens Creek Software also publishes more than a dozen other programs for the Palm and many more for the iPhone.
More Information...
Want to learn more about SwimCoach?
We've tried to keep this page simple, but the complete manual for SwimCoach is part of the download when you download the software (see below). Even if you don't have a Palm, there are plenty of screen shots, so you can see everything the software can do, and how easy it is to use.
Want to try SwimCoach yourself?
You can download SwimCoach and put it through its paces without a Serial Number (password). The handheld software is fully functional without a serial number, but when you HotSync the data, only the first five items in any data you collect will be transferred to the desktop, and in addition, the software will expire in 14 days. This should allow you to fully evaluate what SwimCoach can do for you and your swimmers. Download now.
Want to learn more about PalmOS handhelds?
Our software runs on the Palm operating system (PalmOS). PalmOS is developed by PalmSource, and is licensed for use on handheld devices made by palmOne (including the Treo, Zire, and Tungsten lines), Handspring (now part of palmOne), Sony, Symbol (some models), Kyocera, Samsung, and others. A complete, current list of licensees, with links to their respective websites, can be found here.
Who we are...
Stevens Creek Software has been developing and marketing software for Macintosh, Windows, DOS, PalmOS, and iPhone (iOS) since 1988. We specialize in handheld solutions, with more than 20 titles for PalmOS and iOS. Learn more...
Ready to order?
Single Licenses
You can license a single copy of SwimCoach for $19.95.
Most users download the software from our Web site and pay for the software online; for a small charge we can send you the software on a disk via regular mail instead. You can order online or by mail.
Online:
Mail:
Stevens Creek Software
P.O. Box 2126
Cupertino, CA 95015
We accept most credit cards (online ordering only). If you wish to order by mail, contact us via email so that we can calculate the total cost of the software plus shipping charges. Let us know if you also wish to receive the software on a mailed CD. Payment is by check or money order drawn from a U.S. affiliated bank in U.S. funds. Mail orders will take a considerably longer time than payment and delivery online.