Just say no to duplicate entries!
New in Version 2!
Recognition of identical phone numbers with different punctuation (e.g., xxx-yyy-zzz and (xxx) yyy-zzzz) as identical
Recognition of individual daily events which duplicate a "repeating" event as identical
Compatibility with flash memory units including Treo 650 and Tungsten T5
Recognizes the "new" Palm databses (Contacts, Calendar, Tasks, and Memos)
A
Palm Computing
Platium
Solution

 


Rated "5 Geekheads" for both Quality and Geekness by UGeek.com

Tap Magazine—Rated 9 out of 10—"Quick, easy to use and highly effective. A must-have utility for anyone bothered by duplicate database entries."
"I just received my registration # and within 1 minute of reading the email had eliminated over 500 duplicates from my Pilot databases. Rarely have I encountered a program that performed as simply and as well as UnDupe. When faced with the task of removing a large number of duplicates, the low price and easy purchase of your software make the decision a no-brainer.

Thank you for a wonderful product."
—Jeff Morgan
There are a variety of circumstances where through no fault of your own you'll find that all the entries in your Palm are duplicated, quadruplicated, or worse! We can't tell you exactly how or why it happens, but it happens. Instead of 500 entries in your Address Book, you'll have 1000, or 2000! If you ever try deleting them yourself, one by one, it's a nightmare. That's where UnDupe comes in. Just run the application, tap on the appropriate buttons, and the duplicates are removed! And it takes up only 14K on your Palm!
"This little gem saved my rear!"
—Michael Bee
Here's what the program looks like on your Palm: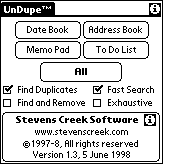 As you can see it's pretty much self-explanatory. You can either delete duplicates from the Date Book, Address Book, Memo Pad, and To Do List (or Franklin Task List if you are using Franklin-Covey software) separately, or just tap on the All button and the program will delete duplicates from each of the four major applications. There's also a "Find Only" mode so you can have UnDupe tell you how many duplicates it finds in each database, without actually deleting them. You can do a fast search, which will catch most of the duplicates, or an "Exhaustive" search, which will find them all.
"This is the best software I've used all year! Thank
you for saving me hours of work. Your software rocks!
—Alex Sherman
UnDupe compares all aspects of the various items. For Date Book items, it compares date, start and end time, alarms, the item itself, and any attached note. For Address Book entries, it compares each of the different fields. For Memo Pad entries, it compares the entire memo, and for To Do list entries, it compares both the To Do item itself, the priority, due date, and any attached note. So items have to be exact duplicates in order to match (and then be removed). There are only three exceptions to the exact matching requirement. The first exception is "categories" - if UnDupe finds two entries, one of which is categorized and the other is "unfiled," it considers those duplicates and removes the one which is "unfiled" as you would expect (if they both are categorized in different categories, UnDupe considers them as two different entries and neither will be deleted). The second exception, which applies to the Date Book, Address Book, and To Do list, is with attached notes. If UnDupe finds two entries which are otherwise identical, and one has an attached note and the second does not, it will delete the one without the attached note (if they both have different notes attached, they are, of course, different and neither will be deleted). And third, UnDupe will ignore extra spaces and new lines ("returns") at the end of any text material, that is, "CA" and "CA " are treated as duplicates.
Note that there are some causes of duplicates which cause "near" duplicates. UnDupe will not find and remove duplicates of this nature.

"What a life saver your UnDupe was. Thank you for saving me a lot of time and frustration. It did in seconds what would have taken hours!"
—Ken Haynes
" As a registered user, I really appreciate your ongoing support and improvement of this product."
—Adam Schabtach
"THANK YOU THANK YOU THANK YOU [for the latest upgrade]. This is PRECISELY the problem I have suffered with for several weeks now since getting my Palm and syncing with Outlook. In fact, it's one of the reasons why I bought your software in the first place. Well done!!- A very satisfied user."
—Daniel Roth
"UnDupe is a lifesaver!"
—Kevin Thompson
"I had files x 4 in my address book and duplicates of my other databases. UnDupe saved the day!"
—Jacques Chen
"Thank you for your invaluable software."
—Dave Tapper
Please note: support for this product is provided only by email to http://www.stevenscreek.com/contact.html. We cannot provide phone support for this software.

PLEASE NOTE - UnDupe removes EXACT duplicates only. There can also be "apparent" duplicates which are not identical and which will not be detected and removed by UnDupe. We do not guarantee UnDupe will remove everything you think is a duplicate, and WE DO NOT OFFER REFUNDS BECAUSE UNDUPE DIDN'T REMOVE EVERYTHING YOU THOUGHT IT SHOULD. If you want to know how many duplicates UnDupe will remove from your Palm, please download the trial version before ordering the software and run it in the "Find" mode.
More Information...
Want to learn more about UnDupe?
We've tried to keep this page simple, but the complete manual for UnDupe is part of the download when you download the software (see below). Even if you don't have a Palm, there are plenty of screen shots, so you can see everything the software can do, and how easy it is to use.
Want to try UnDupe yourself?
You can download UnDupe and put it through its paces without a Serial Number (password). The handheld software is fully functional without a serial number, but when you HotSync the data, only the first five items in any data you collect will be transferred to the desktop, and in addition, the software will expire in 14 days. This should allow you to fully evaluate what UnDupe can do for you and your business. Download now.
Want to learn more about PalmOS handhelds?
Our software runs on the Palm operating system (PalmOS). PalmOS is developed by PalmSource, and is licensed for use on handheld devices made by palmOne (including the Treo, Zire, and Tungsten lines), Handspring (now part of palmOne), Sony, Symbol (some models), Kyocera, Samsung, and others. A complete, current list of licensees, with links to their respective websites, can be found here.
UnDupe runs on all PalmOS devices running PalmOS 1.0 or higher, that is, every PalmOS handheld device every made.
Who we are...
Stevens Creek Software has been developing and marketing software for Macintosh, Windows, DOS, PalmOS, and iPhone (iOS) since 1988. We specialize in handheld solutions, with more than 20 titles for PalmOS and iOS. Learn more...
Ready to order?
Single Licenses
You can license a single copy of UnDupe for $9.95 (plus an additional $3.00 order processing charge if you order through any other means than the web, i.e., by phone, email, mail, or fax).
Most users download the software from our Web site; for a small charge we can send you the software on a disk via regular mail instead. You can order in a number of ways, but please note that a $3.00 order processing charge will be added to all orders which are not placed online using our automated system:
Online:
Phone:
1-408-725-0424
Fax:
1-408-366-1954
Mail:
Stevens Creek Software
P.O. Box 2126
Cupertino, CA 95015
We accept Visa, MasterCard, and American Express credit cards, and checks made out in U.S. funds. If ordering via fax, e-mail, or mail, be sure to include credit card type, number, and expiration date (if using a credit card), mailing address, e-mail address, and daytime phone number. We do not accept purchase orders.
Need Multiple Copies?
For multiple copy pricing and methods of ordering, click here.