Print Barcode Labels from your PalmOS Handheld
There are a number of very nice, very flexible programs available for desktop computers to allow you to print barcode labels. If you have a portable barcode label printer, however, it may well be because you need to print labels "on the go" - while walking around a shop, supermarket, or warehouse, or even in the field. That's where Handy Label comes in. Handy Label lets you use any PalmOS handheld device to control your barcode label printer, and print out labels on the spot. The output isn't as flexible as what you might produce from a desktop computer, but if mobile printing is a requirement, Handy Label may well be the only answer to your problems.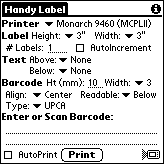 Features and Benefits:
| | |
| --- | --- |
| FEATURE | BENEFITS |
| Prints a wide variety of barcode types - UPCA, UPCE, EAN13, EAN8, CODE39, I2OF5, CODABAR, CODE128, and PDF417 (2D) | Select the barcode type appropriate for your application |
| Prints to a wide variety of printers, including Zebra/Comtec (Encore), O'Neil MicroFlash, Monarch 9460 (Sierra Sport), Datamax E3202, Extech 3500, Monarch 6015/6017, and Seiko DPU 3445 | Select the printer that meets your preferences and budget (inquire about other printers - additional support added regularly). Note: does NOT print to generic ink jet or laser printers, ONLY to printers specifically designed to print barcodes. |
| Print via serial, infrared (IrDA), or Bluetooth | Select the printing method that matches your printer or mode of operation. |
| Configure the output - height and width of the label, height and width of the barcode, size of text fonts, and number of labels to be printed. | Print labels the way you want them to look. |
| Print text above and/or below the barcode | Labels can convey more information than just a barcode - product name, price, etc. |
| Printed text can be linked to external databases (On Hand and Take An Order) | Enter or scan a barcode and have the name, price, or other information about that product automatically added to the label (does not require a licensed version of On Hand or Take An Order - trial version can be used). |
| Use on any PalmOS handheld | With a barcode-enabled PalmOS device (Janam XP20/XP30, Symbol SPT15xx, SPT17xx, SPT18xx, CSM 150, PSC Momentum, SocketScan), barcodes to be printed can be scanned in, but alternatively, the label to be printed can be "hand-entered" on any PalmOS handheld device, which can reduce the cost of the hardware to less than $100. |
| AutoPrint mode | Automatically print one or more labels after scanning in the barcode. |
| Autoincrement mode | Print a series of labels for asset tagging. |
More Information...
Want to learn more about Handy Label?
We've tried to keep this page simple, but the complete manual for Handy Label is part of the download when you download the software (see below). Even if you don't have a Palm, there are plenty of screen shots, so you can see everything the software can do, and how easy it is to use.
Want to try Handy Label yourself?
You can download Handy Label and put it through its paces without a Serial Number (password). The handheld software is fully functional without a serial number, but when you HotSync the data, only the first five items in any data you collect will be transferred to the desktop, and in addition, the software will expire in 14 days. This should allow you to fully evaluate what Handy Label can do for you and your business. Download now.
Want to learn more about PalmOS handhelds?
Our software runs on the Palm operating system (PalmOS). PalmOS is developed by PalmSource, and is licensed for use on handheld devices made by palmOne (including the Treo, Zire, and Tungsten lines), Handspring (now part of palmOne), Sony, Symbol (some models), Kyocera, Samsung, and others. A complete, current list of licensees, with links to their respective websites, can be found here.
Handy Label
is enhanced to take advantage of barcode-scanning capability, which means that if you have a PalmOS handheld equipped with a barcode scanner, the software will operate even more efficiently (although it definitely works without barcode scanning on "normal" PalmOS handhelds). There are a variety of options for barcode scanning using PalmOS handhelds; you can read all about them here.
Handy Label runs on all PalmOS handhelds running PalmOS 3.0 or higher.
Who we are...
Stevens Creek Software has been developing and marketing software for Macintosh, Windows, DOS, PalmOS, and iPhone (iOS) since 1988. We specialize in handheld solutions, with more than 20 titles for PalmOS and iOS. Learn more...
Ready to order?
Single Licenses
You can license a single copy of Handy Label for $29.95.
Most users download the software from our Web site and pay for the software online; for a small charge we can send you the software on a disk via regular mail instead. You can order online or by mail.
Online:
Mail:
Stevens Creek Software
P.O. Box 2126
Cupertino, CA 95015
We accept most credit cards (online ordering only). If you wish to order by mail, contact us via email so that we can calculate the total cost of the software plus shipping charges. Let us know if you also wish to receive the software on a mailed CD. Payment is by check or money order drawn from a U.S. affiliated bank in U.S. funds. Mail orders will take a considerably longer time than payment and delivery online.
Need Multiple Copies?
For multiple copy pricing and methods of ordering, click here.