Inventory and Asset Tracking Software
for the Palm Computing Platform

On Hand is a powerful tool for performing inventories using a Palm Computing platform handheld device. Inventories can be taken manually on a standard Palm OS unit, and can also be taken using the built-in barcode scanner of the standalone Symbol SPT units, and also with the Symbol CSM150 and PSC Momentum plug-in scanner modules for the Handspring Visor. The software is designed to be entirely button driven, so that a complete inventory can be taken not only without requiring knowledge of Graffiti (tm), but without even using a stylus. This allows the user to hold the device in one hand while positioning items to be inventoried with the other hand. Inventories can be taken using a catalog of items which has been downloaded into the handheld device, in which case the items will be identified by name as seen at the left, or they can be taken "from scratch," collecting barcodes (and quantities) of any items at hand. For collecting inventories without barcodes, On Hand includes Stevens Creek Software's unique IntelliScroll (tm) technology, which lets you scroll right to the item you're looking for, rather than scrolling down screen by screen. On Hand lets you take single-location inventories where you record the number of each item on hand, multi-location inventories where you have the same item stored in multiple locations, and serial number inventories where you have many copies of the same item, each with a different serial number, and you want to record information about each individual item. On Hand can also be used to perform asset tracking, recording location and serial number for items to be tracked. On Hand can also perform pick list operations, displaying a list of items to be selected and then removing them from the display once they have been scanned, leaving a display of only those items remaining to be selected.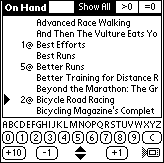 In either case, the resulting information is then HotSync'ed back to the desktop (Windows or Macintosh), creating a simple text file (tab-delimited or comma-separated) which can be easily imported into any existing desktop database, spreadsheet, or other business management software. The information exported by On Hand is completely configurable (see screen below), so that you can make the resulting file conform exactly to your desktop requirements. With a copy of our PalmPrint software, you'll also be able to print out a copy of the inventory on the spot. And with the latest version of On Hand, and a barcode printer, you'll even be able to print out barcode labels as well. Truly a multifunctional product!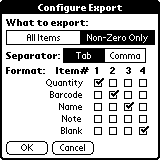 Just wanted to send you a quick note to congratulate you on an excellent product! I purchased OnHand and a Symbol SPT1500 for a retail marketing store count application this week. Out of the box and loaded the application -- ready for the retail marketer -- in less than an hour and working as if I had designed the entire application for our custom use! Thanks for a great product.
—Ken Randall, IT Director
Bob Timberlake Apparel, Inc.
Lexington, NC
Thanks for the great product On Hand. I've been using it for about a month now, and find it user friendly and very valuable to our company. We are a Vending and Food Management company, and I use On Hand to track our food waste coming in from our 35+ routes. I print bar codes on our commissary produced food labels, then scan the waste items (via SPT 1500) daily to track best and worst selling items; and now I can track the items by route! :) I then import the data into an Access database and match it up with our production quantity.
—Bob Williams
Covenco Inc.
Middletown, PA
More Information...
Want to learn more about On Hand?
We've tried to keep this page simple, but the complete manual for On Hand is part of the download when you download the software (see below). Even if you don't have a Palm, there are plenty of screen shots, so you can see everything the software can do, and how easy it is to use.
Want to try On Hand yourself?
You can download On Hand and put it through its paces without a Serial Number (password). The handheld software is fully functional without a serial number, but when you HotSync the data, only the first five items in any data you collect will be transferred to the desktop, and in addition, the software will expire in 14 days. This should allow you to fully evaluate what On Hand can do for you and your business. Download now.
Want to learn more about PalmOS handhelds?
On Hand runs on the Palm operating system, which is used on handheld devices made by Palm, Handspring, Sony, Symbol (some models), Kyocera, Samsung, and others. To learn more about the PalmOS and the wide variety of Palm Powered devices, visit the PalmSource website.
Want to learn more about barcode scanning options for the Palm?
Many people aren't clear on what is necessary to do barcode scanning on a Palm. Read all about it.
Who we are...
On Hand is brought to you by Stevens Creek Software. We have been developing and marketing software for Macintosh, Windows, DOS, and the Palm Computing platform since 1988. Stevens Creek Software is a leading developer of software for the Palm Computing platform.
Ready to order?
Single Licenses
You can license a single copy of On Hand for $79.95.
Most users download the software from our Web site; for a small charge we can send you the software on a disk via regular mail instead. You can order in a number of ways:
Online:
Mail:
Stevens Creek Software
P.O. Box 2126
Cupertino, CA 95015
We accept Visa, MasterCard, and American Express credit cards, and checks made out in U.S. funds. If ordering by mail, be sure to include credit card type, number, and expiration date (if using a credit card), mailing address, e-mail address, and daytime phone number. We do not accept purchase orders for single licenses.
Need Multiple Copies?
For multiple copy pricing and methods of ordering, click here.